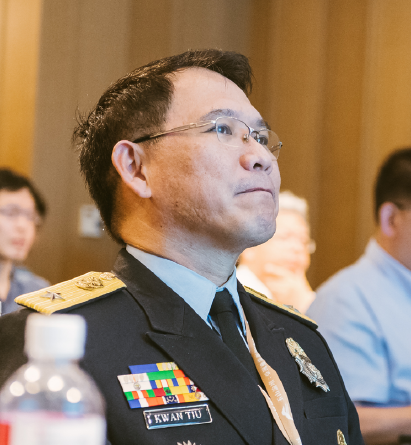 Wilberto Rico Neil A. Kwan Tiu
Regional Director
Bureau of Fire Protection-National Capital Region, the Philippines
CSupt. Wilberto Rico Neil Kwan Tiu is Regional Director of the Bureau of Fire Protection, National Capital Region. He has previously held similar positions for the Negros Island Region, Region 8, and Region 11, and was Director of the National Fire Training Institute.
CSupt. Kwan Tiu is a native of Davao City. Apart from his current designation, he is a police inspector and a licensed medical technologist, having passed the NAPOLCOM Police Inspector Exam, Career Service Professionals Examination and Medical Technology Board Exam respectively.
He holds a master's degree in Local Governance, and two bachelor's degrees: a BS in Medical Techology from San Pedro College in Davao, and a BS in Public Safety from the Philippine National Academy. He is currently pursuing a master's degree in Crisis & Disaster Management at the Philippine Public Safety College.
He has received numerous recognitions throughout his career, namely as Junior Fire Officer of the Year (2003), four times named Most Outstanding PNPA Alumni, four times named Most Outstanding Filipino Firefighter, and three times named Most Outstanding Public Servant.